DESCRIPTION
What do you get when you combine big mountain free-skier Cody Townsend, a sock sketch and Le Bent?... Well, you get the world's first specifically designed backcountry sock of course! Designed in collaboration with Cody Townsend, these high performance snow socks came to fruition after two years of R&D and some of the best field testing possible by the man himself as he went after the top fifty lines in North America.
We established key critical areas for improvement which set the baseline for how we redefined a sock made for the backcountry. These include:
 1. Silicon Ankle Locks: strategically placed bonded silicone strips across the rear of the ankle, eliminating foot slip and avoiding the infamous anxious sock-bunch.
 2. Silicone Cuff: once we started playing with silicone we immediately fell in love with it and went a step further, adding a silicone ring to the top cuff below the knee. Keeping socks standing tall, without claiming hairs, so you can break trail without your socks going flaccid. 
 3. Toe Box Cushioning: packing more cushion into this high-impact area making for a more comfortable experience with extra warmth over the foot fingers.
 4. Shin Compression Area: we combined the thinking of a sports compression sleeve and a sock together in one. By adding slight compression to the shin & calf areas, helping to manage lactic-induced fatigue.
 5.  Mesh Ventilation: we developed a new mesh ventilation zone to increase breathability across the top of the foot, allowing cushioning to stay where it's needed on the base and toe, while letting moisture and steam release from the top of the foot.
These features and new technology have revolutionised comfort for any backcountry touring mission. Allowing your boots to do what they were built for.
Tried and tested but the unsung hero of Cody's current The Fifty Project… and the reason he hasn't had a blister since joining le team.
FABRIC & CARE
SHIPPING & RETURNS
Free shipping on all orders over $79
All orders are shipped via a traceable courier

100% SATISFACTION GUARANTEE
100 DAYS WORN OR UNWORN
Read More
CODY'S TECHNOLOGY
DEFINITIVE FIT SYSTEM™ - A BETTER FIT
Elastics & strategic stitching provide targeted support in all the key areas:
SILICONE SOCK LOCK + STAY UP CUFF
Thoughtfully placed internal silicon grip and 360º cuff so they stay up all day.
SILICONE HEEL LOCK
No-slip silicone grips on the heel to keep your foot locked in place.
MESH BREATHABILITY ZONE
For maximum moisture wicking and temperature control.
TOE CUSHIONING + GHOST SEAM
Additional padding for your foot fingers, keeping them snug with zero annoying rub.

SEMI COMPRESSION ZONE
Semi compression in the calf & shin area to aid in recovery after hours breaking trail.
Discover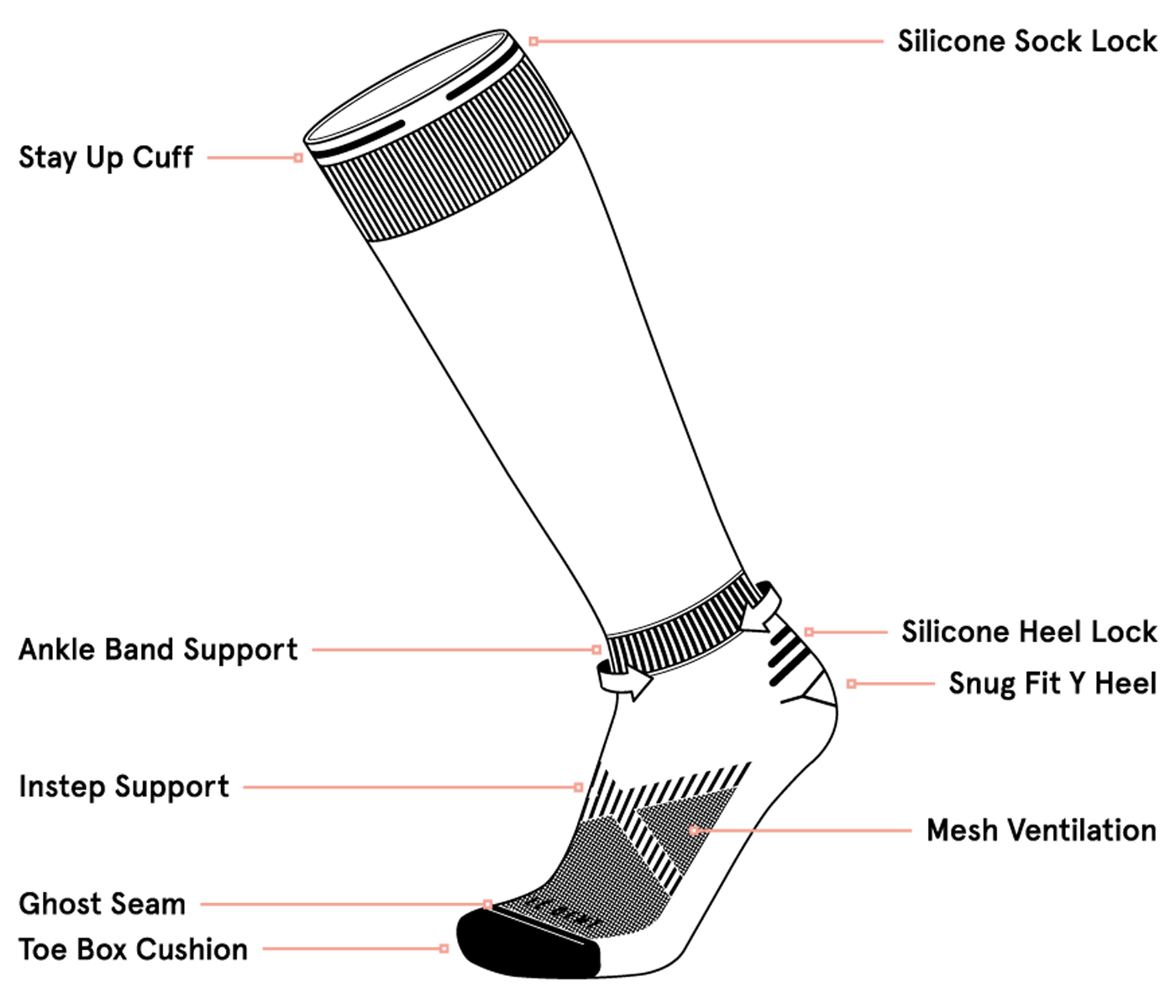 Reviews
Customer Reviews
01/06/2020
Linda F.
United States
Super good stuff
After always getting blisters on my skinny little heel, it was really nice to not finish a weekend all kinds of le bent out of shape. Instead, I was le-hyped to not have gaping holes all over my feet! The sticky items could have been a bit smaller/flatter as they rubbed a bit inside my liner, but otherwise a great experience, and they didnt even bunch up at all!
01/03/2020
Jerilyn M.
United States
Ski Sox
I paid more for these sox than any I've ever had in my life — but they were "special" ski sox & more importantly, they were for my grandson! He was absolutely thrilled to receive them! And like a grandmother, I got 2 pair so he could always have a clean pair!!
12/29/2019
Keith D.
United States
Everyone's Loving these Christmas Gifts
Bought these for the entire family....everyone loving them!
12/26/2019
GREGORY M.
United States
Le send are sweet.
I've purchase about 5 pairs of these for both myself and family. Everyone absolutely love these, im an alta ski patrol so in boots over 150 days, these are my new go too. Bye bye smartwools. The only thing better would be a prodeal ;)
12/12/2019
Benoit S.
Canada
Le Send for president !
The socks are awesone. But maybe you should re think about shipping AIR to Canada . 35$ US ! it's the price of one pair of socks ! So it cost me 105$ US for 2 pairs , 138$ Ca , and I had to pay 46.81$Ca for Duties , Almost 100$ CA a pair overhall ! Anyway , I still like Le Cody !! Cheers Mate